Catered Appetizer Menu
Go beyond the traditional chips and dips, or finger foods, and entertain your guests with unique flavors prepared by our Culinary Staff that will make you the hit of any party!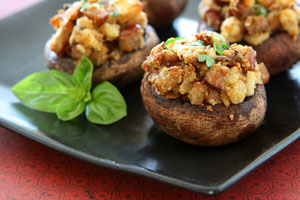 Stuffed Mushrooms – $25
One dozen Cremini mushrooms stuffed with an Italian Sausage blend and topped with parmesan cheese.
Tomato Brushetta – $50
Diced tomatoes with fresh mozzarella, diced Kalamata olives, parmesan cheese, and fresh basil served over crusted bread. Includes 2 Qt. container of Brushetta and 50 pieces of crusted bread.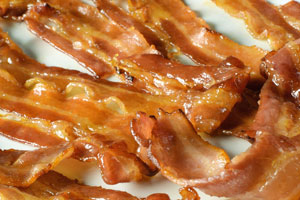 Candied Bacon – $30
One dozen premium, thick-sliced bacon strips seasoned in a honey brown sugar glaze.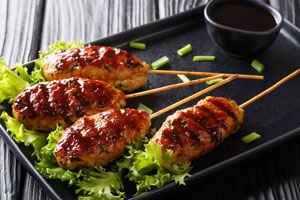 Thai Chicken Skewer – $60
Skewered minced chicken seasoned with cilantro, ginger and flavored with sweet chili sauce.  Includes 50 pieces.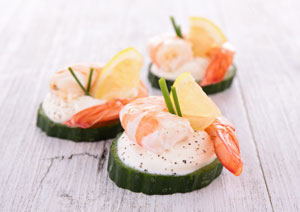 Blackened Shrimp Canapes – $30
One dozen sliced English cucumber pieces topped with herb cream cheese and cocktail sauce.
Bacon & Blue Cheese Meatballs – $40
Homemade premium beef mixed with chopped bacon, blue cheese crumbles, garlic and onions and shaped into balls.  Includes 50 meatballs.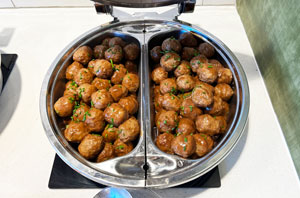 Sweedish Meatballs – $35
Oven-roasted premium ground beef meatballs tossed in a brown demi cream accented with nutmeg.  Includes 50 pieces.
Salami Coronets – $60
Salami slice rolled and stuffed with a seasoned herb cream cheese. Includes 50 pieces.
Banh Mi Sliders – $30
Asian burger slider with pickled carrots, fresh cucumber, cilantro and Asian ginger mayo sauce on a brioche slider bun. Includes 12 Sliders.
Appetizer Order Information
We request Online Orders be placed at minimum of 3 days in Advance of Pick-up Date Requested.  If you need a quicker turn around, please call our Sales Office for assistance.
Our Sales Office is open Monday – Friday, so please call during office hours to make advance arrangements for weekend pick-up.
Advance Payment Required to secure order.
All orders are subject to 9.85% Tax (added during checkout).