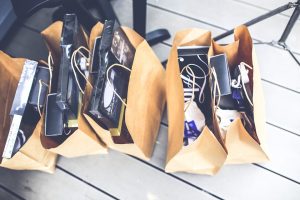 In our experience, a Conference Welcome Packet can impact the first impression of your guests' expectations at your event, so making sure it includes informative, yet helpful tools to navigate their participation in your conference is most beneficial.  So what are some key things to consider?
The Welcome Packet Container Itself
Depending on the audience, the length of the meeting and the main topic of discussion, trends in this area have expanded considerably.  What once was a simple folder or manila envelope we have seen expand to a branded swag bag of goodies or even be downsized to a thumb drive or a name tag with a QR code where they can access the event agenda and presentations through a mobile application.
Some of our guests have recommended that branded canvas bags or backpacks work better for them, especially for multi-day events.  Plastic bags branded with a logo are often tossed, defeating the purpose of the brand who invested in that opportunity.  Our favorite was the brightly colored gift bag with a few goodies and their name tag clipped to the outside.  Getting a present is always exciting and a great way to start their mood about the activities ahead!
The Stuff on the Inside
Outside of the program, schedule of events, speaker biographies, pens, and a name badge, you might consider keeping in mind some items that would be of value specifically to the related activities or interests of your guests.  Since we're the ones emptying the trash after events held here, we feel it is important to advise you to keep what goes inside the actual Welcome Packet container simple and to the point.  Sponsors and exhibitors appreciate being included with any "Welcome Packet Themes" so they can be sure to guide the conversation to their involvement.  Some creative ideas we have seen include:
Sunglasses / Sunscreen (for the golf course)
A Small Lego Set or Stuffed Animal (to take back home for the kid)
 Small Snack Treats (customized from local suppliers to make them feel welcome to the location)
Hand Sanitizer & Tissues (during the flu season)
An Event Branded Business Card Holder booklet (to collect the cards gathered from this event so they don't get lost)
Be Sure to Ask for Feedback on Your Event Evaluation
As with any follow-up survey, the goal is to seek feedback and identify ways to make the next event better.  For that purpose, we recommend you include asking them to rate both the value and benefit of the items you included to help them navigate your event.  Also specifically ask if there was something missing or preferred to be included to better suit the activities included in the conference.
We have connections to many local businesses who could help you provide something for your welcome packet that could insert some of the personality of the local O'Fallon, IL area as well as save you on shipping.
If you would like some help coordinating welcome packet ideas for your event, please contact our Sales Staff at 618-624-9999.