Pinnock-Murray Wedding Reception
Date: November 19, 2022
Ceremony Information:
Regency Conference Center
400 Regency Park, O'Fallon, IL 62269
Doors Open: 12:30 PM
Ceremony Begins: 1:00 PM – 2:00 PM
Dress Attire: Semi-Formal
COVID-19 Wedding Safety
We are looking forward to celebrating with you at our wedding on 19 November 2022 at The Regency Conference Center. Given the times we are living in, we wanted to share important safety protocols we will be following during the event. You and our wedding vendors' health and safety are our #1 priority. Please take the time to read this message carefully and reach out to us with any questions.
Temperature Checks: If you feel sick or are experiencing any symptoms such as fever, cough, or loss of smell and taste on the day of the wedding, please stay home. We will be taking everyone's temperature as they enter the venue, and anyone with a temperature of 100.4 degrees or higher will unfortunately be denied entry.
Guest Count: We are expecting 100 guests, which aligns with local and state ordinances and our venue's capacity restrictions.
Venue: Our wedding ceremony, cocktail hour and reception will take take place indoors.
Masks: We are requiring mask use for guests when they are not eating or drinking. All of our on-site wedding vendors will be wearing masks as well. Masks will not be provided so please bring your own.
Social Distancing: Please stay at least six feet away from guests who do not live in your household. We will be spacing out ceremony seating and reception tables at least six feet apart.
Food and Drink Service: Buffet style + open bar
Hand Sanitizer: We will provide sanitizing stations in several areas of the venue. Please practice good hand hygiene after touching surfaces and feel free to bring your own hand sanitizer if desired.
We know this is a lot of information to digest, and we appreciate you taking the time to read through this note. Although our wedding may not look like others you've attended in the past, we still hope that it will be a joyous and celebratory event. Please feel free to reach out to our wedding planner Marche Dixon via phone (216) 856 – 9128 with any questions.
Thank you in advance for your cooperation, and we look forward to seeing you masked up on 19 November 2022!
Love,
Christine & Robert
Reception Information:
Regency Conference Center
400 Regency Park, O'Fallon, IL 62269
Cocktail Hour: 2:00 PM – 3:00 PM
Reception: 3:00 PM – 7:00 PM
Table Assignments: There will be no table assignments so please make yourself comfortable.
Dancing: Masks aren't required while dancing during the reception.
Gift Registry Information:
Monetary Gifts
Cards and Gifts: Your presence is present enough! But should you choose to bring a gift to the wedding, there will be a table set up where you can leave your items, rather than handing them to us directly.
Lodging Suggestions for Out-of-Town Guests:
Fly into St. Louis Lambert International Airport:
10701 Lambert International Blvd, St. Louis, MO 63145
Lodging:
Hilton Garden Inn St. Louis/O'Fallon
360 Regency Park
O'Fallon, IL62269
(618) 624 – 4499
*We have rooms blocked off under Robert Murray II
Wedding Party:
Father of the Groom: Robert Murray Sr.
Mother of the Groom: Mary Murray
Father of the Bride: Cedric Pinnock Sr.
Mother of the Bride: Clementina Pinnock
Groomsmen: Cedric Pinnock Jr., Cheo White, Clarence Murray Jr., Chris Murray
Bridesmaids: Eryn Murray, LeAundra Murray, Karina Ramos, Akila Neverson
Ring Bearer: Cayden Pinnock
Flower Girl: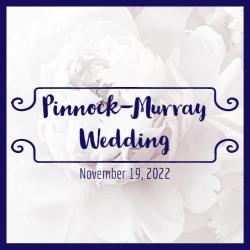 Welcome, family and friends! We're excited to celebrate this next chapter in our lives with you.
​We cannot wait to have you join us in Illinois to help celebrate our big day. On this website, you'll find our wedding weekend's schedule of events, travel and hotel information, and much more.
See you soon! Love, Christine & Robert