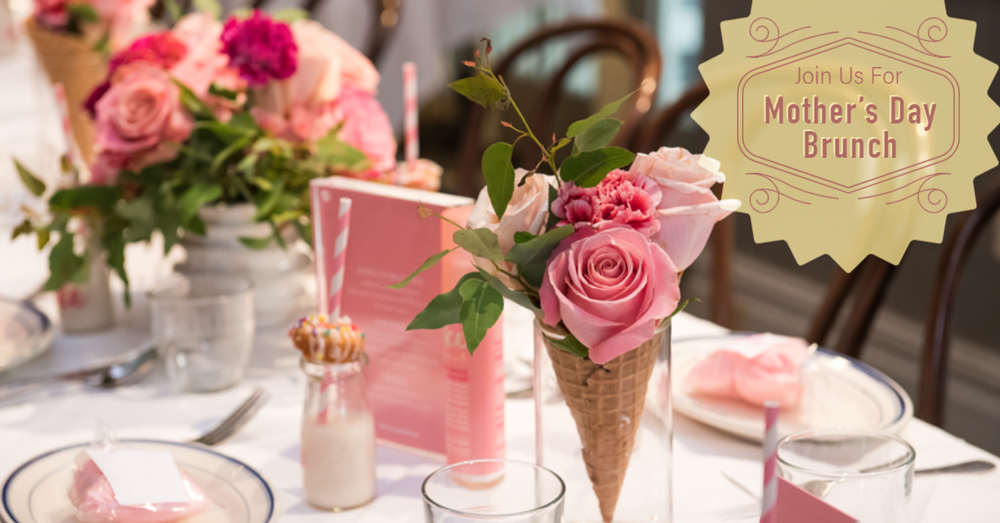 Mother's Day Brunch – May 8th, 2022
We are excited to help you celebrate Mother's Day this year with our traditional Mother's Day Brunch.  To improve our ability to serve families more efficiently, we have made some adjustments to our event allowing for four different sessions and easier access to seating.  Please see the Event Information for more details before making your reservation.
EVENT INFORMATION:     ******* RESERVATIONS ARE NOW CLOSED ******
DATE:  Sunday, May 8th
TIME:  Four separate Seating Sessions will be offered:  10:00 am, 11:00 am (Booked), 12:30 pm (Booked), and 1:30 pm.  ("Food Stations" positioned around the room are offered at every Session providing quick and simple access to full buffet menu.)
SEATING:  If you purchase only 4 tickets, you may be seated with another grouping of four.  To be assigned your own table, you will need to purchase all eight seats.  Because we anticipate all seats being accounted for and preset by reservations, we ask that you please reach out to us if you need special seating requirements. If you do reserve two tables, or have two reservations under different names, please note that in your reservation and we will do our best to seat you nearby one another.
RESERVATIONS: Advance Reservation and Payment is required to attend. Register using the Online option or by calling our Sales Office at 618-624-9999.
CANCELLATIONS:  To receive a refund on your reservation, cancellation must be received before Noon on Saturday, May 7th.
TICKET PRICES:
Adults – $39.95
Children (ages 6-10) – $14.95
Children (5 and under) – Free
(Plus Tax and Service Gratuity)
BREAKFAST STATION
Scrambled Eggs
Fresh Baked Biscuits & Gravy
Country Breakfast Potato Casserole
Bacon
Sausage Links
Pancakes with Warm Syrup
OMELET STATION
Chef Prepared Custom Omelets
LUNCH STATION
Southern Fried Chicken
Roasted Pork with Apple Brandy Chutney
Southern Fried Breaded Shrimp
Garlic Cream Cheese Whipped Potatoes
Creamy Mac and Cheese
Southern Style Green Beans
Orange Glazed Carrots
SOUP & SALAD STATION
Tomato Bisque Soup
Chicken & Wild Rice Soup
Chopped Hearts of Romaine
Chopped Eggs
Tomatoes
Cucumbers
Onions
Cheddar & Mozzarella Cheeses
Assorted Dressings
Croutons
CARVING STATION
Sirloin of Beef
Braised Ham
Fresh Baked Rolls & Condiments
BREAD STATION
Bagels with Assorted Cream Cheese
Croissants
Freshly Baked Pastries
Turn Overs
Cinnamon Rolls
Cinnamon Twists
French Style Pastries
DESSERT STATION
Chef Art's Famous Bread Pudding
Assorted Cakes, Pies and Cheesecakes
BEVERAGES
Coffee, Tea & Assorted Juices
Cash Bar:  Soda, Mimosa's and Bloody Mary's
Reservations for This Event are Now Closed.