While most presenters at a business meeting focus in upon informative; we have found that those who focused on making a business meeting memorable went the extra step to include activities that stood out in the way of happier attendees.  See, our event staff skirting the back of the room or watching from the sidelines has a great perspective of the engagement factor as it relates to the presenter and the attendees at a corporate function.  We are trained to watch for things like guests shivering or fanning themselves to consider adjusting the temperature of the meeting space, or are ready to replenish beverages; but what about engagement?  Have you ever wondered what your guests are thinking?  Are they watching the clock or really paying attention and getting something out of the experience?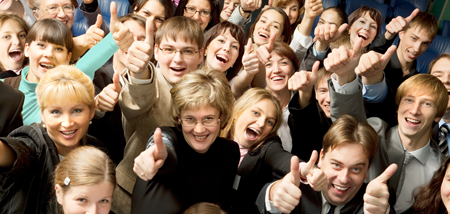 In our years of experience organizing corporate and community events of all shapes and sizes; we have had the opportunity to witness some really unique and interesting ideas that we thought might be fun just to share.  Here are just a few that have stood out in our mind:
The Workbook That Keeps You Focused
While most meeting coordinators typically request notepads for attendees to take notes; we have seen a trend of having a Workbook that accompanies the presentation.  This strategy appears to help keep attendees focused on the presentation and looking for the words or key items that were purposely left blank in the workbook for them to complete.  It is often well received by the guests as it helps them easily organize their notes and action items to do when they get back to the office.  It also has an extra bonus of putting your brand and contact information in front of them so all of your information can be easily filed and used for reference.
Select Specific People from the Audience to Address Questions
You can likely recall a presenter asking general questions of all in attendance, but it was the few that specifically asked random people in the audience to answer a question directly that appeared to keep everyone on their toes.  Maybe it was not knowing who they would ask next, or simply the factor that they took time to have a personal conversation in a room of hundreds, it seemed to increase engagement by opening more direct discussions.  We also picked up a few positive comments on the meeting experience altogether by guests in attendance, which is a good sign that your business meeting will be memorable.
Break the Room into Smaller Groups to Speed Network
Business meetings are a great place to make new connections, but some people who attend can be shyer than others.  One event recalled by our staff nudged the idea along in a fun way.  As everyone registered entered the meeting, they were assigned a name tag.  That name tag was noted with a color and a number.  At each seat, there was a Networking Worksheet and an envelope with instructions and space to note names and hold business cards with contact information of new connections they made at the event.  Right before the first-morning break, everyone was asked to look at their name badge and go the section of the room with that color and start networking!  After about 10 minutes, they broke for snacks and beverages and could continue their conversations.  Part of their instructions included them to also make an introduction to help connect others who might have like interests.  Finally, in the afternoon, they were asked to gather in groups, this time designated by their number, and network again.  At the end of the event, their instruction sheet encouraged them to send follow-up emails to those they met and continue the conversations and introductions from those they met at the afternoon break.  It appeared that many people liked having the added interaction scheduled into the event.
Include Exercise into Your Presentation
For some, sitting in a conference room for several hours can be daunting; but this one group did a great job of mixing things up! Part of their presentation included an interactive story related to the industry or apparent situations that those in attendance experienced in their line of work.  While the details of the story are a little fuzzy; the slide presentation had specific words or images within it that were meant to trigger actions by the audience like "left" and "right" or "up" and "down" as well as phrases like "and they all said ______" with the blank being completed with an appropriate expression like "hooray!" or "awe" as it related to the narration of the story.   It was almost like "Simon Says" but without the "Simon Says" part.  The Audience simply followed what the story told them to do and they were to all act their part.  It turned out to be an awesome ice breaker and inspired a fun burst of energy for all involved.  Additionally was a hoot to watch from the back of the room!
Engage in Mini-Games
Everyone loves games, but they can sometimes be hard to interject into a presentation – or are they?  At one sales training event, the presentation was broken up with mini rounds of trivia.  Over the course of the day, there were five rounds of questions.  Each round consisting of 10 questions.  Some of them appeared to be related to the company policies and procedures, some related to the competition or some related to the products they represented.  Each table was given 10 minutes to review the questions and submit their answer before the presentation continued.  Sometimes the answers were given right away.  Sometimes the answers were part of the next part of the presentation.  At the end of the day, everyone at the table with the highest score went home with prizes.  It was a fun way to bring everyone back quickly after breaks!
These are just a few ideas that we have found interesting.  We'd love to help you implement fun activities into your next event and make it a memorable occasion for your guests.
Feel free to call our Sales Office at 618-624-9999 to check availability for your next meeting or send us a message with your fun experience to keep the ideas flowing!